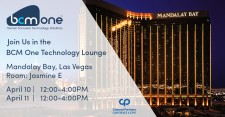 #LightingTheWayForward
LAS VEGAS, March 25, 2019 (Newswire.com) - EnergyWare is a national provider of LED Smart technology. Its unique business model eliminates the guess-work of LED solutions by bringing lighting engineers, lighting designers, best-in-breed manufacturing and trained LED-centric electricians all under one umbrella. This has firmly established EnergyWare as a trusted advisor to both the private and public sector and countless enterprise organizations across the country.
Next month, EnergyWare will join BCM One as one of its Technology Lounge Sponsors at the 2019 Channel Partners Conference in Las Vegas, NV on April 10th & 11th.
"We're thrilled to have EnergyWare, a TSX member, be a part of the BCM One Technology Lounge as we collaborate together to offer channel partners an array of solutions from the TSX ecosystem with the best possible contracts," stated Paula Como Kauth, Director, Marketing for BCM One.
"EnergyWare is proud to partner up with BCM One. The Technology Lounge has proven itself to be a strategic way for EnergyWare to reach top performing agents from around the country, interested in representing EnergyWare's LED Smart Technology. We are excited to once again team up with BCM One this year as part of our ongoing collaboration with BCM One and their stellar marketing team," said Boaz Santiago, Director of Marketing at EnergyWare.
ABOUT BCMOne
Founded in 1992, BCM One is a leading managed solutions provider offering businesses a one-stop shop for integrated technology needs. Serving over 4,500 customers worldwide, BCM One offers a variety of solutions supporting businesses' critical network infrastructure – including technology expense optimization, unified communications, SDWAN, cloud, security and connectivity solutions. BCM One prides itself on its long-standing client relationships backed by their mission statement, "Providing a World-Class Experience with Every Human Interaction." To learn more about BCM One, visit www.bcmone.com.
ABOUT EnergyWare
EnergyWare was founded in 2015. It is a full-service LED Smart Technology design, Engineering, Manufacturing and Installation company with customers in over 30 states nationwide. In just over three years, EnergyWare has increased its revenue over 700% and plans on keeping that trend as it leads the LED Smart Technology charge in the IoT market. EnergyWare continues to thrive through its' strategic partnerships and its' customer-centric approach to LED technology. For more information about EnergyWare, visit us online at www.energywarellc.com or connect with us on Twitter or introduce yourself to one of our Regional Directors on LinkedIn.
Source: EnergyWare, LLC
Share: